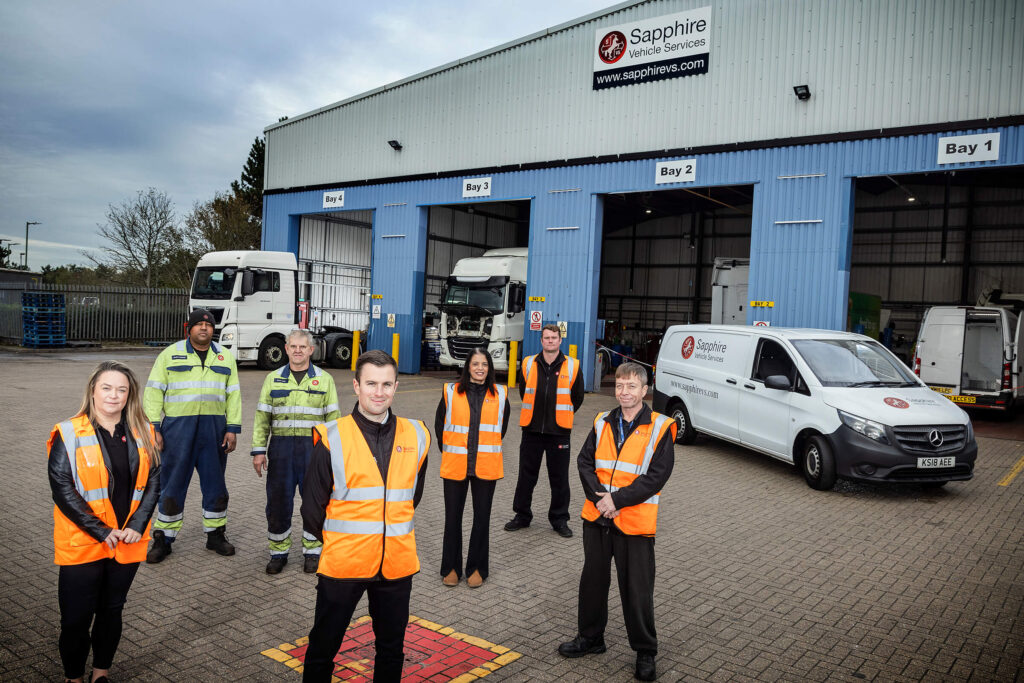 Independent truck and van repairer Sapphire Vehicle Services has doubled its offering to operators, with the opening of the second in a national network of all-makes workshops.
Sapphire, already one of Britain's most successful independent commercial vehicle repairers, has converted its former vehicle maintenance unit in Hatfield, Hertfordshire, into a service depot open to all.
The site joins Sapphire's workshop in Tamworth, Staffordshire, which opened for business in June, and marks the next step in an aggressive push for more business – other facilities are already under development and due to open soon.
Sapphire Vehicle Services is already a familiar name to many of the UK's leading transport operators, looking after the fleets of some of the best-known names in the supermarket sector. The company maintains upwards of 28,000 trucks and vans for its clients, in dedicated Vehicle Maintenance Units across the country.
The Hatfield site's four-bay workshop is equipped with pits, lifts and a brake roller-tester, while the building also houses a parts store, offices, and comfortable driver waiting area.
With a staff of 12 qualified technicians, led by Manager Paul Howgego and supported by Workshop Controller Lewis Simmonds and Senior Compliance Administrator Victoria Bateman, the facility is open for business 24 hours a day, seven days a week, 365 days per year.
Paul is a relatively new face to Sapphire but brings with him a long track-record in the industry – he spent the previous 16 years with a major franchised truck dealer in London, where he worked his way up to the rank of Service Manager.
The team also includes one apprentice technician, and there's a vacancy for a second. Sapphire apprentices benefit from a structured two-year training programme, with mentoring support throughout, leading to a nationally recognised qualification and the opportunity to embark on a rewarding career with prospects for ongoing development.
For truck operators, from the largest fleets down to owner-drivers with a single vehicle, the advantages that Sapphire can offer are clear.
"We've invested a huge amount in setting up this site," says Paul Howgego. "The building has been fully refurbished and is now kitted out with diagnostic equipment and tooling for all leading vehicle brands. We carry a stock of genuine OEM parts, and both the workshop and our fully equipped mobile roadside assistance van operate around the clock. We also have a dedicated driver whose job is to collect vehicles from customers, and deliver them back as soon as they're finished, to help keep downtime and inconvenience to an absolute minimum."
"I think customers will be pleasantly surprised at the depth and breadth of the back-up we can offer, on either a pay-as-you-go or contract basis, at highly competitive prices."
Contact details for the new site are:
As well as inspection, maintenance and repair of all trucks, vans and trailers the Hatfield facility offers MoT preparation, and has technicians specifically trained to work on electric vehicles.
Through its parent company, Northern Ireland-based Ballyvesey Holdings, Sapphire can also provide customers with vehicles on contract hire, lease or spot rental, as well as full fleet management and vehicle disposal services.
Sapphire Vehicle Services is led by Managing Director Perry Reeves, supported by Group Operations Manager Dave Williams, and Dean Woods and Grant Tadman, respectively Regional Managers North and South. Together, they share a decades-long track record in the commercial vehicle industry.
"There are literally tens of thousands of trucks and vans out on the roads, which are kept running smoothly by Sapphire workshops," asserts Perry. "So even customers who have never heard of us can have complete confidence in our exemplary standards of support.
"Our Hatfield site is already generating a great deal of interest in its local area, and we're looking forward to opening more workshops very soon. To any operators looking for the finest back-up, with exceptional value and a friendly face, I say get in touch – we'd love to hear from you."
Sapphire Vehicle Services operates 19 busy and successful vehicle maintenance units across Britain. Other divisions of parent company Ballyvesey Holdings work across related sectors including transport and logistics, truck sales and aftersales support, trailer manufacturing, transport industry services, construction equipment sales and property development.
www.linkedin.com/company/sapphirevs